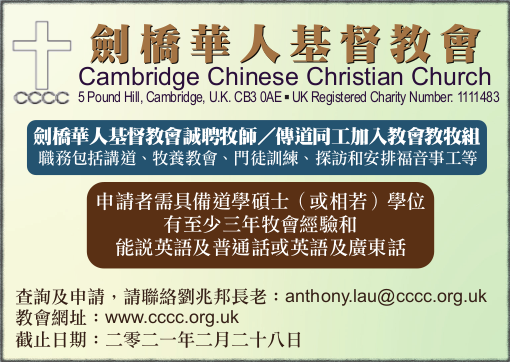 诚聘牧师/传道
剑桥华人基督教会诚聘牧师/传道同工加入教会教牧组。职务包括讲道、牧养教会、门徒训练、探访和安排福音事工等。
申请者需具备道学硕士(或相若)学位,有至少三年牧会经验、能说英语及广东话或普通话。
查询及申请,请联络刘兆邦长老: anthony.lau@cccc.org.uk
截止日期: 直到找到合适人选为止。
Pastor
The church is seeking applicants for the vacancy of a full-time pastor.
Responsibilities include preaching, pastoral care, discipleship training, and overseeing evangelistic activities.
Applicants should hold an MDiv (or equivalent), have three years of relevant experience, and be able to communicate fluently in English and at least one of Mandarin or Cantonese.
For enquiries and application, please contact Elder Anthony Lau: anthony.lau@cccc.org.uk
Application deadline: Until the vacancy is filled